International success for Hungarian distilleries
2009.03.17.
Budapest, Palace of Arts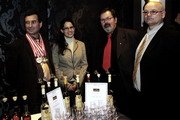 The world's best distillates and brandies competed on the international, traditional distillate competition Destillata in Vienna. From 188 distilleries (arrived from 13 countries) "Agárdi Pálinkafőzde" (Agárd Distillery) won the titles "Distillery Of The Year", "Nation Winner" and "Distillery Master Of The Year" – so the total winner comes from Hungary.